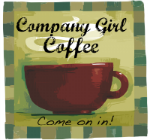 Coffee Girls – grab a big mug and I'll share some fresh homemade wheat bread. Ooooh – it's so tasty. I love baking bread, and this week, I've tried two different recipes. This one for Simple Whole Wheat Bread is our favorite! Soft and delicious – perfect for toast!
F IS for Freedom. While I DO love snow – and love how it's piled up all over the place, being snowed in for 5 days with girls who, once again, needed breathing treatments was long enough. They were getting antsy but couldn't play in the snow. I was getting antsy and couldn't take them anywhere. Roy was probably (at least a little) glad to get to go to work most days. lol

Yesterday, my inlaws came over and helped us dig out. I think if Georgie got out into parts of the yard, we'd lose sight of her it's so deep out there. Crazy! Then they took the girls for a couple of hours (cuz BOTH girls wanted to go to Mamaw & Papaw's house) and had to pick them up and drop them off in their 4 wheel drive truck. There are parts of our town that are still not plowed…
My parents are in the Southern U.S. Well, actually, my dad is. My mom has been on St. Kitts at her brother's villa celebrating her 60th birthday with some girlfriends. I know! It's been in the 80s there, but only in the 50s in Florida. Apparently it's the coldest winter there in 35 years. Global warming, of course…
So I'll be baking another batch of bread today – and I look forward to it. I love the kneading part. It takes the right amount of pressure to coax the yeast into producing a good loaf of bread. Sometimes I overdo it. Sometimes I don't use enough. It takes MUCH practice and I like knowing that. Plus – my family loves to eat it and it feels really good to give them something healthy that they enjoy.
God's like a bread baker, too. I always think of God while I'm making bread. He uses the best ingredients in our lives – even some sour ones at times because they all work together to produce a tasty loaf! He allows for "proofing" time, and kneading time, and then some time in the heat to complete His work in our lives. He knows the right amount of "proof" we need. Stirring us all up and then allowing us to rest. And then He begins working those ingredients into our lives. Sometimes the pressure feels unbearable, but He knows what we can stand. And He continues to knead knowing that it's an important step in our life. And then we get to rest again. And then we're in the heat of the fire – and it's hard and we don't think we can stand it or take it any longer – and then we're done. And we produce an aroma – a fragrance – that is pleasing to others, but mostly to Him.
And walk in love, [esteeming and delighting in one another] as Christ loved us and gave Himself up for us, a slain offering and sacrifice to God [for you, so that it became] a sweet fragrance. ~Ephesians 5:2 (Amp)
Join in on our Company Girl Coffee conversations here. And thanks for stopping by!