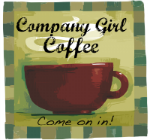 Oh company girls, please let me fix a cup of coffee for you this morning! And I think I still have some Cream Cheese Coffee Cake to share with you, too. So pull up a chair and bundle up – cuz Baby, It's Cold Outside!
Indeed, winter HAS arrived in my neck of the woods. Cold, snowy, FREEZING winter. I love the snow – I love it when it snows like it did yesterday.

What I DON'T like about winter is the cold that bites through layers of clothing and cups of coffee… That cold wind that literally steals your breath when it hits your face. Brrrrrrr! That's the part of winter that I just don't enjoy. Whether I'm living in Alaska or Northcentral Ohio!
But it's here, and the gloves and mittens and boots are coming out in full force. I get to bundle up my girls like Ralphie's little brother, Randy!
Speaking of which – I have to confess that despite my extreme love of Christmas, I cannot get into the "spirit" this year. I'm coming to the end of my Algebra class and I'm struggling to get the work DONE, let alone PASS… Makes me question everything I've been doing. Everything I've invested in my attempt to complete my bachelor's degree. We're talking SERIOUS brain meltdown with Algebra, and the trials and struggles I've faced this particular semester and the loss of our pregnancy – it's enough to make me want to say – FORGET THIS!
School usually comes easy to me. Even if I don't fully grasp a subject, I can bluff my way through major papers and essays to score a decent grade. A's and B's are my typical outcome for classes.
Except for Math.
There's no bluffing. You either "Get it" or you don't – and I fall into the category of "DON'T."
It's not for lack of effort – although I must admit, at times Algebra is the very last thing I wanted to look at – let alone study. But I have spent more time in this class – looking for help online, buying extra books in an attempt to find a reasonable explanation for factoring a cubed polynomial – so I can master the subject.
And it sucks. Literally. It sucks the joy from my life. The fun from my holiday spirit. I can't even bring myself to get our Christmas tree out because I have to think about Algebra.
And yet I can't get to the computer to accomplish the work. Not from lack of desire or want – but because I'm a wife & mom. And I have girls who won't take naps when I schedule homework time. When I plan to focus on this thing called "Math" that only engineers or scientists end up needing to use. And I'm still very tired and have had a lot of physical "stuff" going on that has kept me from it.
So I question its purpose. Which does not justify a failing grade by any means. Or even the thoughts of quitting – which haunt me at 3:30 a.m. some mornings.
I have even been looking for a spiritual lesson here. But all I can come up with is this: Algebra makes me appreciate my family. Makes me want to spend time with them and enjoy them. Helps me understand the purpose for laundry and dishes and vacuuming with a good attitude.
If nothing else, I appreciate all the other parts of my life – but with one week to go – I have little time to spare to enjoy any of those other parts.
So, it's off to the races – with tons of prayer for understanding and wisdom to comprehend – and my last-ditch efforts to pass a class on my way to obtain a piece of paper that says "Bachelor of Science."
All the while questioning my purpose for doing so.
I'm not complaining, really. I'm pondering and I'm at a crossroads and I'm praying.
The one sparkling, ray of hope in this endless tunnel is the beautiful evening we spent together as a family, while Curly participated in her VERY FIRST school program! It was her PreK Christmas program and it was one of the most delightful experiences so far I've had as a mother.
Watching my 4 year old singing and doing motions to Christmas songs with her school friends and teachers. What a blessing it was. She is a spirited, animated girl who LOVES to sing and it showed. How awesome it was to see her humongous personality coming out right there on those little risers. Singing about Jesus and how He loves us and being thankful for Christmas. I had tears in my eyes through most of it, when I wasn't laughing in sheer delight at her full-body participation. I think the best way to describe it was "animated diva" as my friend, Carol, described it. (Her grandson, Cooper, is one of Curly's buddies at school.) Whew! What a blessing.
It did remind me of the sheer joy I had when I was in kid's choir at church. But last night was about Curly and her joy for singing and praising God. It was enough to make me think – "Algebra is NOTHING" in this journey of life. I can do my best, and that's all I can do – but moments like last night are what makes life so worthwhile!!!