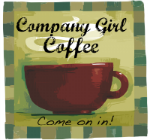 TO EVERYTHING there is a season, and a time for every matter or purpose under heaven:

A time to be born and a time to die, a time to plant and a time to pluck up what is planted,


A time to kill and a time to heal, a time to break down and a time to build up,

A time to weep and a time to laugh, a time to mourn and a time to dance… Ecclesiastes 3:1-4 (Amplified)


Hello friends and Coffee Girls! I can't believe Friday is here again.
I have to announce that I am no longer pregnant. It has been a rough week with a lot of emotional ups and downs, but like everything in life, it is a new season and a new time.
Name an emotion and I've probably experienced it (or soon will). Sadness. Anger. Disappointment. Confusion. Relief. Exhaustion. Joy.
There are many moments already crystallized in my mind, and I at least have one ultrasound scan to keep as a memory.
My mother in law has been a tremendous help this week – keeping the girls almost all day every day while I've been resting or recovering. And Roy, while riding this emotional roller coaster with me, is off today so we can all have time together. For that I am very grateful.
The one thing I've already been able to grab onto during this time, is that no matter what happens in my life or how I feel – God never changes. He is still Holy, He is still Lovely and He is still GOOD.
He can take my fists beating on His chest in anger because He is strong.

He can brave the storm of my accusing questions and bewildered confusion because He is Peace.


He can hold me while I cry my eyes out because He is steadfast and faithful.

He can comfort me while I mourn, because He knows the Plans He has for me.
And this is just one season in life. One moment in time. And regardless of my feelings or my circumstances – He is God. While I wander through a million emotions, He is walking right next to me and His Spirit is speaking to my heart, even as the evil one launches fiery darts at my faith.
I will mourn and I will question. And I also know that a season will come when I will laugh and when I will dance.
God is good. All the time.